Tibi Laus Domine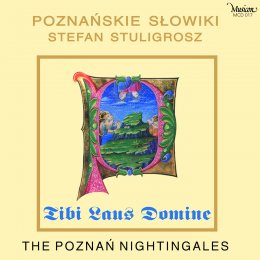 Please give us the catalogue numbers and quantity of our CDs you are interested in buying. We will send you information on the cost of the CDs and of the shipping and handling thereof.
Musicon
musicon@musicon.pl
OK
MCD 017
Pieces of G.F.Handel,G.P.da Palestrina, A.Chlondowski, J.Różycki, and S.Stuligrosz.
Performed by Boys' and Men's Choir of the State Philharmony in Poznań "The Poznań Nightingales".
Arranged for choir and organ and conducted by Stefan Stuligrosz.
Organ parts by Andrzej Tatarski.
Recorded to commemorate "The Poznań Nightingales" participation in Beatification Mass on St.Peter's Square in Rome on 18 April 1993.
Producers: Jacek Guzowski, Krzysztof Kuraszkiewicz
Recording method:DDD, 44,1kHz, 16 bits
Songs
| | | | |
| --- | --- | --- | --- |
| 1 | Georg Friedrich Haendel | The Excellency and Power of our God from the oratorio Messiah | 3:37 |
| 2 | Stefan Stuligrosz | Cantate Domino | 5:35 |
| 3 | Antoni Chlondowski | Kyrie eleison | 3:50 |
| 4 | Stefan Stuligrosz | Tibi laus, Domine | 3:01 |
| 5 | Arr. by Stefan Stuligrosz | Gloria | 3:53 |
| 6 | Arr. by Stefan Stuligrosz | Psalmus Confitemini | 3:06 |
| 7 | Arr. by Stefan Stuligrosz | The Sequence Victime paschali laudes | 2:36 |
| 8 | Stefan Stuligrosz | Quia vidisti me, Thoma | 2:42 |
| 9 | Stefan Stuligrosz | Alleluja | 1:21 |
| 10 | Arr. by Stefan Stuligrosz | Credo III , G.P. da Palestrina Et incarnatus est | 5:44 |
| 11 | Jacek Różycki | Magnificemus in cantico | 4:41 |
| 12 | Antoni Chlondowski | Sanctus, Benedictus | 3:39 |
| 13 | Antoni Chlondowski | Agnus Dei | 3:22 |
| 14 | Georg Friedrich Haendel | Hallelujah from the oratorio Messiah | 4:02 |