Baroque Music In Poland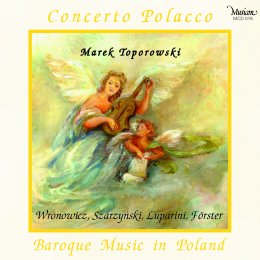 Please give us the catalogue numbers and quantity of our CDs you are interested in buying. We will send you information on the cost of the CDs and of the shipping and handling thereof.
Musicon
musicon@musicon.pl
OK
MCD 015
Performers: Olga Pasichnyk-soprano, Kira Boreczko-soprano, Marcin Bornus-Szczyciński-countertenor, Jacek Wisłocki-tenor, Bogdan Makal-bass
Baroque Music Ensemble conducted by Marek Toporowski.
Producers: Jacek Guzowski, Krzysztof Kuraszkiewicz
Recorded on 11-17 April 1994, in the church of St.Peter and Paul in Wrocław.
Recording Time: 57'43''
Recording method: DDD, 44,1kHz, 16 bits
[1-6] The First World recordings
Songs
| | | | |
| --- | --- | --- | --- |
| 1 | Maciej Wronowicz | Lauda Sion | 7:06 |
| 2 | Kaspar Förster jr | Sonata | 5:36 |
| 3 | Maciej Wronowicz | In dulci jubilo | 9:13 |
| 4 | Maciej Wronowicz | De Profundis | 3:03 |
| 5 | Maciej Wronowicz | Laudate Dominum | 1:16 |
| 6 | Giovanni Battista Luparini | In martirio crudele | 7:22 |
| 7 | Stanisław Sylwester Szarzyński | Ad hymnos, ad cantus | 3:55 |
| 8 | Stanisław Sylwester Szarzyński | Litania cursoria | 18:51 |