Stefan Stuligrosz. Polish Masses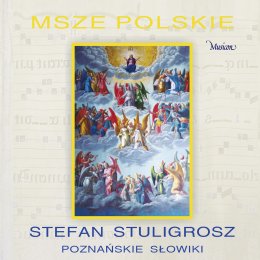 Please give us the catalogue numbers and quantity of our CDs you are interested in buying. We will send you information on the cost of the CDs and of the shipping and handling thereof.
Musicon
musicon@musicon.pl
OK
MCD 014
Performers:
Boys' and Men's Choir of the State Philharmony in Poznań "The Poznań Nightingales"
Stefan Stuligrosz - conductor
Robert Hauptmann - organ
Producers: Jacek Guzowski, Krzysztof Kuraszkiewicz
Recorded in June 2000 at the Resurectionist's church at Wilda in Poznań
Recording Time: 78'46"
Recording method: DDD, 44,1kHz, 16 bits
Songs
1

–

3

Stefan Stuligrosz
Polish Mass based on Gregorian themes. For the Advent and the Lent.
4:20

1

Lord, have mercy
1:10

2

Holy, Holy (Sanctus)
1:22

3

Lamb of God
1:48

4

–

7

Stefan Stuligrosz
Polish Mass based on Gregorian themes I.
7:29

4

Lord, have mercy
1:31

5

Glory to God in the highest
3:11

6

Holy, Holy (Sanctus)
1:27

7

Lamb of God
1:20

8

–

11

Stefan Stuligrosz
Polish Mass based on Gregorian themes II.
6:59

8

Lord, have mercy
1:16

9

Glory to God in the highest
2:56

10

Holy, Holy (Sanctus)
1:14

11

Lamb of God
1:33

12

–

15

Stefan Stuligrosz
Polish Mass based on Gregorian themes III.
6:32

12

Lord, have mercy
1:08

13

Glory to God in the highest
2:44

14

Holy, Holy (Sanctus)
1:15

15

Lamb of God
1:25

16

–

19

Stefan Stuligrosz
Polish Mass 'Angelic', based on Gregorian themes II.
6:42

16

Lord, have mercy
1:04

17

Glory to God in the highest
3:08

18

Holy, Holy (Sanctus)
1:14

19

Lamb of God
1:16

20

–

23

Stefan Stuligrosz
Polish Mass - psalmodic.
7:09

20

Lord, have mercy
1:18

21

Glory to God in the highest
3:15

22

Holy, Holy (Sanctus)
1:24

23

Lamb of God
1:12

24

–

27

Stefan Stuligrosz
Polish Mass - 'Joyful'.
6:17

24

Lord, have mercy
0:57

25

Glory to God in the highest
2:58

26

Holy, Holy (Sanctus)
1:09

27

Lamb of God
1:13

28

–

31

Stefan Stuligrosz
Polish Mass - 'Mother of God', based on ancient polish Marian Anthem.
6:30

28

Lord, have mercy
1:07

29

Glory to God in the highest
2:43

30

Holy, Holy (Sanctus)
1:08

31

Lamb of God
1:32

32

–

35

Stefan Stuligrosz
Polish Marian Mass, based on themes of The Little Office of the Immaculate Conception.
5:52

32

Lord, have mercy
0:53

33

Glory to God in the highest
2:43

34

Holy, Holy (Sanctus)
1:04

35

Lamb of God
1:12

36

–

39

Stefan Stuligrosz
Polish Mass for unison singing with organ
6:07

36

Lord, have mercy
1:04

37

Glory to God in the highest
2:45

38

Holy, Holy (Sanctus)
1:03

39

Lamb of God
1:15

40

–

43

Stefan Stuligrosz
Polish mass, for the singing of people with organ.
6:03

40

Lord, have mercy
1:13

41

Glory to God in the highest
2:43

42

Holy, Holy (Sanctus)
0:54

43

Lamb of God
1:13

44

–

47

Stefan Stuligrosz
Polish Mass "Praiseworthy", for the singing of people with the accompaniment of the choir and organ.
8:21

44

Lord, have mercy
1:22

45

Glory to God in the highest
3:36

46

Holy, Holy (Sanctus)
1:24

47

Lamb of God
1:59