Negro Spirituals, Missa Luba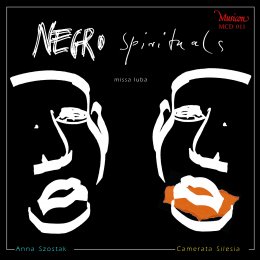 Please give us the catalogue numbers and quantity of our CDs you are interested in buying. We will send you information on the cost of the CDs and of the shipping and handling thereof.
Musicon
musicon@musicon.pl
OK
MCD 011
Performers: Camerata Silesia Singers Ensemble,
Anna Szostak - conductor.
Ryszard Balcer, Mariusz Kupczak - percussion
Producers: Jacek Guzowski, Krzysztof Kuraszkiewicz
Recorded in 1994 and 1995.
Recording method: DDD, 44,1kHz, 16 bits
Songs
1

....................................................
Swing Low, Sweet Chariot
2:38

2

....................................................
Elijah Rock
2:02

3

....................................................
Nobody Knows
3:54

4

....................................................
Plenty Good Room All my Trials
2:27

5

....................................................
I Hear a Voice A-Prayin'
3:02

6

....................................................
Hush! Somebody's Callin' My Name
2:22

7

....................................................
Hush! Somebody's Callin' My Name
2:46

8

....................................................
Steal away
3:58

9

....................................................
I got a key
2:10

10

....................................................
My Lord, What a morning
2:49

11

....................................................
I Can Tell the World
1:47

12

....................................................
Go Down Moses
2:52

13

....................................................
Ezekiel Saw De Wheel
1:26

14

....................................................
Dere's No Hidin' Place
1:26

15

....................................................
Hold on!
2:37

16

–

21

....................................................
Missa Luba
16:15

16

Kyrie
2:10

17

Gloria
3:04

18

Credo
6:25

19

Sanctus
1:52

20

Benedictus
0:56

21

Agnus Dei
1:48