Alma Redemptoris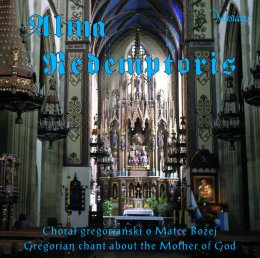 Please give us the catalogue numbers and quantity of our CDs you are interested in buying. We will send you information on the cost of the CDs and of the shipping and handling thereof.
Musicon
musicon@musicon.pl
OK
MCD 001
Gregorian Chant about The Mother of God.
Dominican Liturgy sung by the Friars of the Holy Trinity Convent in Cracow.
Producer: Krzysztof Kuraszkiewicz
Recording method: ADD, 44,1kHz, 16 bits
Songs
| | | | |
| --- | --- | --- | --- |
| 1 | .................................................... | Regina Caeli | 1:47 |
| 2 | .................................................... | Ave Maris Stella | 2:59 |
| 3 | .................................................... | Alma Redemptoris . Psalmus 121 . Alma Redemptoris | 4:19 |
| 4 | .................................................... | Ave Regina Caelorum . Psalmus 113 . Ave Regina Caelorum | 3:32 |
| 5 | .................................................... | Alleluia, Canticum: Ap 19, 1-7 | 3:33 |
| 6 | .................................................... | Lectio: Ga 4, 4-5 | 0:27 |
| 7 | .................................................... | Responsorium Sancta Dei | 1:17 |
| 8 | .................................................... | Sub Tuum Praesidium . Magnificat . Sub Tuum Praesidium | 4:17 |
| 9 | .................................................... | Kyrie | 2:07 |
| 10 | .................................................... | Pater Noster | 1:06 |
| 11 | .................................................... | Benedicamus Domino | 0:30 |
| 12 | .................................................... | Salve Regina | 3:08 |
| 13 | .................................................... | Litaniae beatae Mariae Virginis | 6:59 |
| 14 | .................................................... | Inviolata | 1:12 |
| 15 | .................................................... | Recordare | 1:52 |