In Nativitate Domini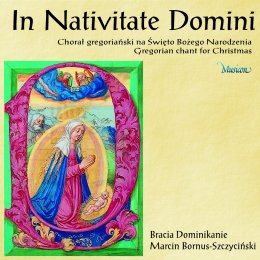 Please give us the catalogue numbers and quantity of our CDs you are interested in buying. We will send you information on the cost of the CDs and of the shipping and handling thereof.
Musicon
musicon@musicon.pl
OK
MCD 033
Gregorian chant from Dominican sources sung by the Dominican Friars of the Holy Trinity Monastery in Cracow.
Precentor: Marcin Bornus-Szczyciński, Marek Rojszyk OP
Producers: Jacek Guzowski & Krzysztof Kuraszkiewicz
Recorded on 24-26 October 2000 in the cloisters of the Dominican Monastery in Cracow.
Recording method: DDD, 44,1kHz, 16 bits
Songs
1

–

5

....................................................
Missa
21:42

1

Dominus dixit ad me (officium, Psalmus2,1.7)
4:10

2

Tecum principium (responsorium, Psalmus 110,3.1)
8:04

3

Alleluia (Psalmus 2,7)
3:07

4

Laetentur caeli (offertorium, Psalmus 96,11n)
1:40

5

In splendoribus sanctorum (communio, Psalmus 110,3)
4:41

6

–

10

....................................................
Officium lectionis
50:16

6

Christus natus est (invitatorium, Psalmus 95)
13:57

7

Hodie nobis de caelo (responsorium)
3:37

8

Liber generationis Iesu Christi (Genealogia,Mt 1,1-16)
20:20

9

Te Deum (hymnus SS.Ambrosii et Augustyni)
10:30

10

Benedicamus Domino
1:52