KAMIEŃ IMPRESSIONS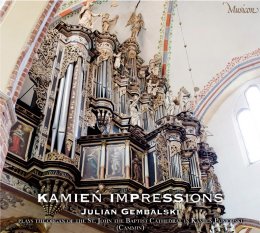 MSCD 050
Julian Gembalski plays the organ of the St. John the Baptist Cathedral in Kamień Pomorski.
Producers: Jacek Guzowski, Krzysztof Kuraszkiewicz
Graphic design: Anna Lenartowicz
Hybrid Multichannel Super Audio CD
Plays on All SACD and CD Players.
The recording, in the high-resolution (24/96) SURROUND 5.0 technology, was made in November 2011.
Songs
1

Piotr Drusiński (Petrus de Drusina)
Deus in adiutorium meum intende
2:52

2

Anonim The Oliwa Tablature
Fuga [in F]
3:07

3

Anonim The Oliwa Tablature
Preambulum ex F
0:42

4

Anonim The Oliwa Tablature
Lemma
1:04

5

Nicolaus Bruhns
Praeludium in G
8:29

6

Samuel Scheidt
6. Echo ad manuale duplex, forte et lene, SSWV 128
6:57

7

Nicolaus Bruhns
Praeludium in e
5:28

8

–

16

Johann Sebastian Bach
Partite diverse sopra: "O Gott, du frommer Gott", BWV 767
14:46

8

Partita I
1:02

9

Partita II
2:32

10

Partita III
1:10

11

Partita IV
0:42

12

Partita V
1:20

13

Partita VI
1:00

14

Partita VII
1:37

15

Partita VIII
2:25

16

Partita IX
2:58

17

Johann Sebastian Bach
Praeludium et Fuga e-moll, BWV 548
13:48

18

–

27

Julian Gembalski
Kamień Impressions – 10 improvised preludes
15:48

18

Morn
0:47

19

Encounter
0:58

20

Cathedral
1:55

21

Wind from the Bay
1:37

22

Saint Otto
1:08

23

Conch
1:18

24

City at Noon
1:17

25

Organ Psalm
2:33

26

Dawn
2:22

27

Farewell
1:53