Lenten and Easter Hymns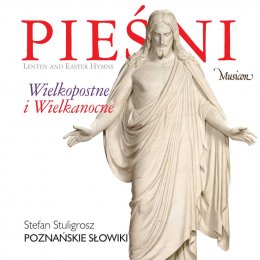 Please give us the catalogue numbers and quantity of our CDs you are interested in buying. We will send you information on the cost of the CDs and of the shipping and handling thereof.
Musicon
musicon@musicon.pl
OK
MCD 045
Performers:
"The Poznań Nightingales" Boys' and Men's Choir of the Poznań Philharmonic
Stefan Stuligrosz – conductor
Maciej Bolewski – organ
Producers: Jacek Guzowski, Krzysztof Kuraszkiewicz
The recording, created in high-resolution (24/96) surround 5.0 technology, was created at the All Saints Church in Poznań February 2011, courtesy of rector Janusz Grześkowiak, PhD.
Graphic design: Anna Lenartowicz
english texts: Andrew Z. Szydło
Songs
| | | | |
| --- | --- | --- | --- |
| 1 | .................................................... | I've worked enough | 4:08 |
| 2 | .................................................... | O Garden of Olive | 5:13 |
| 3 | .................................................... | Oh, my Jesus | 6:22 |
| 4 | Stefan Stuligrosz | Whoever serves the Holy Mother | 3:57 |
| 5 | Stefan Stuligrosz | Lament of the Sorrowful Mother "I bid you farewell most dear Christ Son" | 3:52 |
| 6 | Stefan Stuligrosz | The Sorrowful Mother stood | 7:02 |
| 7 | Stefan Stuligrosz | Oh People my People | 4:50 |
| 8 | Stefan Stuligrosz | Cry, Angels | 5:40 |
| 9 | .................................................... | Oh Blood most dear | 3:57 |
| 10 | .................................................... | Christ the Lord has risen | 3:21 |
| 11 | .................................................... | A Joyous Day has arrived for us | 2:57 |
| 12 | .................................................... | Victor over death, hell and the devil | 4:02 |
| 13 | .................................................... | You who cry, wipe away your tears | 2:56 |
| 14 | .................................................... | Christ the Lord has risen | 3:34 |
| 15 | Stefan Stuligrosz | Be Happy, oh gentle Queen | 3:22 |
| 16 | Stefan Stuligrosz | Let the song of praise ring out in exultation | 5:21 |
| 17 | .................................................... | Alleluia. Oh joyful day | 4:28 |