Musica Claromontana vol.64 Commune de Beatae Mariae Virginis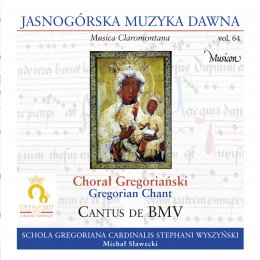 MCCD 64
Performers:
Schola Gregoriana Cardinalis Stephani Wyszyński,
Rev. Łukasz Kątny, Piotr Karbownik, Witold Perłowski, Krzysztof Stęchły, Bartosz Szwaciński, Father Radosław Tomczak OFM Conv.
Mikołaj Derentowicz – soloist (1,4,6,10,11,12,15,17,20)
Michał Sławecki, magister chori, conductor, soloist (16)
Producers: Jacek Guzowski, Krzysztof Kuraszkiewicz
Music from the collection of the Archives of the Pauline Fathers. The recording was made at the Franciscan Friars of the Seraphic Father St. Francis church in Warsaw in September 2015.
Graphic design: Anna Lenartowicz
Songs
1

–

3

....................................................
Missa de Beata Virgine
6:32

1

Introitus Vultum tuum
2:56

2

Alleluia. Post partum virgo
1:47

3

Offertorium Felix namque es
1:49

4

–

9

....................................................
In Annuntiatione
12:41

4

Graduale Diffusa est gratia
1:01

5

Tractus Audi filia
4:04

6

Alleluia. Ave Maria
1:43

7

Alleluia. Virga Iesse
2:39

8

Offertorium Ave Maria
2:12

9

Communio Ecce Virgo
1:02

10

–

14

....................................................
In Visitatione
10:43

10

Introitus Salve sancta parens
2:06

11

Graduale Benedicta et venerabilis es
4:05

12

Alleluia. Felix es sacra virgo Maria
2:00

13

Offertorium Beata est virgo Maria
1:35

14

Communio Beata viscera
0:57

15

–

19

....................................................
In Assumptione
10:42

15

Introitus Gaudeamus omnes
3:15

16

Graduale Propter veritatem
3:58

17

Alleluia Assumpta est Maria
1:59

18

Offertorium Assumpta est Maria
0:54

19

Communio Optimam partem
0:36

20

–

21

....................................................
De BMV in adventu
5:36

20

Introitus Rorate caeli desuper
2:12

21

Tractus Gaude Maria virgo
3:24

22

–

25

....................................................
Alia de BMV
12:19

22

Ave Maria regina caelorum
4:45

23

Salve regina
3:45

24

Ave regina caelorum
1:57

25

Regina caeli
1:52