ARS ORGANI POLONIAE. Kazimierz Dolny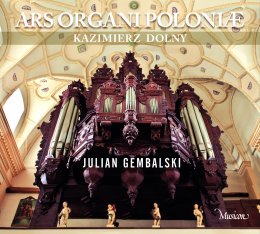 MSCD 054
Julian Gembalski
plays the organ of the St. John the Baptist and St. Bartholomew the Apostle parish church in Kazimierz Dolny.
Producers: Jacek Guzowski, Krzysztof Kuraszkiewicz
Graphic design: Anna Lenartowicz
Hybrid Multichannel Super Audio CD
Plays on All SACD and CD Players.
The recording, in the high-resolution (24/96) SURROUND 5.0 technology, was made in April 2014.
http://www.hraudio.net/showmusic.php?title=10110#reviews
Songs
1

Anonim the Cracow Organ Tablature
Tantum ergo Sacramentum
3:15

2

Anonim the Cracow Organ Tablature
Ortus de Polonia
2:08

3

Anonim the Cracow Organ Tablature
Per merita Sancti Adalberti
1:58

4

Anonim the Cracow Organ Tablature
Nasz Zbawiciel
0:55

5

Anonim the Cracow Organ Tablature
Cristus iam surrexit
1:07

6

Jan Pieterszoon Sweelinck
Psalm 116
5:54

7

Jan Pieterszoon Sweelinck
Puer nobis nascitur
3:01

8

Jan Pieterszoon Sweelinck
O lux beata Trinitas
3:24

9

Jan Pieterszoon Sweelinck
Echo Fantasia (Aeolian)
3:27

10

Girolamo Cavazzoni
Pange lingua
2:14

11

Girolamo Cavazzoni
Hymn Ave Maris Stella
2:09

12

Bernhard Schmidt
Fuga Prima:à 4
3:39

13

Johann Jacob Froberger
Toccata in Re
4:01

14

Christian Erbach
Canzon a voc 4, No.6
4:44

15

Christian Erbach
Canzon, No.8
3:45

16

–

22

Murschhauser
Praeambulum, Fugue, Finale tertii toni
6:28

16

Praeambulum
0:57

17

Fuga I
0:47

18

Fuga II
1:00

19

Fuga III
1:02

20

Fuga IV
1:00

21

Fuga V
0:44

22

Finale tertii toni
0:58

23

–

26

Murschhauser
Intonatio et Fugae primi toni
4:00

23

Intonatio
0:33

24

Fuga I
1:04

25

Fuga II
0:50

26

Fuga finalis
1:33

27

–

28

Johann Xaver Nauss
Praeludium et Fuga primi toni
3:16

27

Praeludium
1:24

28

Fuga
1:52

29

–

33

Julian Gembalski
Suita per organo historico
13:02

29

Preambulum
1:08

30

Ricercar
2:09

31

Corale
4:23

32

Echo-fantasia
2:26

33

Preambulum e toccata
2:56