Eucharistic Hymns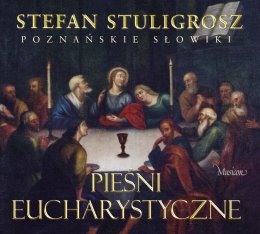 Please give us the catalogue numbers and quantity of our CDs you are interested in buying. We will send you information on the cost of the CDs and of the shipping and handling thereof.
Musicon
musicon@musicon.pl
OK
MCD 051
Eucharistic hymns arranged by Stefan Stuligrosz for choir and organ.
Performers:
Boys' and Men's Choir of the State Philharmony in Poznań "The Poznań Nightingales".
Stefan Stuligrosz - conductor
Maciej Bolewski - organ
The last The Poznan Nightingales' recording under Professor Stuligrosz direction.
Producers: Jacek Guzowski, Krzysztof Kuraszkiewicz
Graphic design: Anna Lenartowicz
The recording created in high resolution (24/96) surround 5.0 technology was created at the All Saints Church in Poznań in April 2012.
Songs
1

–

18

Stefan Stuligrosz
74:32

1

We greet you, O living Host
4:24

2

Nearer, my God, to Thee
4:02

3

Give me Jesus
3:54

4

Where is Jesus?
2:46

5

He is approaching, the true God approaches
3:56

6

Dear Jesus, You are love
5:29

7

Jesus concealed in the Host
2:44

8

Jesus, my Lord
5:11

9

I bow before You
4:05

10

Let's join in together
4:20

11

Infinite and most beautiful love of Jesus
5:31

12

I greet You, I do
4:39

13

From Where, dear Jesus
4:16

14

We Praise Your Heart
4:50

15

From this poor Earth
4:21

16

Unheard treasure
2:59

17

O Heart of Jesus
3:55

18

Every living Soul
3:10