J.S.BACH a cinque cordes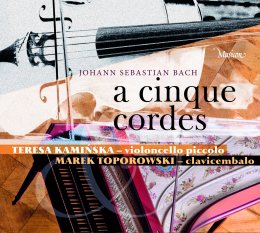 Please give us the catalogue numbers and quantity of our CDs you are interested in buying. We will send you information on the cost of the CDs and of the shipping and handling thereof.
Musicon
musicon@musicon.pl
OK
MCD 053
Teresa Kamińska - violoncello piccolo by Mark Caudle, 2006.
Marek Toporowski - harpsichord after Pascal Taskin by Krzysztof Kulis, 2008.
Producers: Jacek Guzowski, Krzysztof Kuraszkiewicz
Graphic design: Anna Lenartowicz
Recorded at Pszczyna Castle in May 2010.
Recording Method:DDD, 96kHz, 24 bits
Songs
1

–

5

Johann Sebastian Bach
Partita B minor BWV 997
18:18

1

Prelude
3:10

2

Fugue
5:22

3

Sarabande
4:04

4

Gigue
2:47

5

Double
2:55

6

–

10

Johann Sebastian Bach
Partita A minor BWV 1013
21:57

6

Preludio after BWV 996
1:46

7

Allemande
5:37

8

Corrente
5:14

9

Sarabande
5:51

10

Bourée Anglaise
3:29

11

–

14

Johann Sebastian Bach
Sonata D major BWV 1028
14:45

11

Adagio
1:45

12

Allegro
3:58

13

Andante
4:42

14

Allegro
4:20

15

–

17

Johann Sebastian Bach
Sonata G minor BWV 527
15:28

15

Andante
5:24

16

Adagio, ma non tanto, e dolce after BWV 527/1044
5:54

17

Vivace
4:10