Totus Tuus. Hybrid Multichannel SACD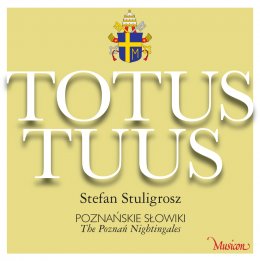 MSCD 046
Pieces of prof. Stefan Stuligrosz prepared in honor of Blessed Pope John Paul II.
Performers:
"The Poznań Nightingales" Boys' and Men's Choir of the Poznań Philharmonic
Stefan Stuligrosz – conductor
Maciej Bolewski – organ
Producers: Jacek Guzowski, Krzysztof Kuraszkiewicz
Graphic design: Anna Lenartowicz
english texts: Andrew Z. Szydło
Plays on All SACD and CD Players.
The recording, created in high-resolution (24/96) surround 5.0 technology, was created at the All Saints Church in Poznań in March 2011, courtesy of rector Janusz Grześkowiak, PhD.
Songs
| | | | |
| --- | --- | --- | --- |
| 1 | Henryk Mikołaj Górecki | Totus Tuus | 7:34 |
| 2 | Stefan Stuligrosz | Sequence to the Holy Spirit | 6:09 |
| 3 | Stefan Stuligrosz | Oh, Polish land | 1:50 |
| 4 | Stefan Stuligrosz | Surrexit Dominus vere. Cantate domino | 3:48 |
| 5 | Stefan Stuligrosz | Quia vidisti me, Thoma, credidisti | 2:58 |
| 6 | Stefan Stuligrosz | Veni Creator | 4:10 |
| 7 | Stefan Stuligrosz | Good Shepherd – in Gregorian style | 1:52 |
| 8 | Stefan Stuligrosz | Good Shepherd – in the style of a church song | 2:00 |
| 9 | Stefan Stuligrosz | Good Shepherd – for mixed choir | 3:50 |
| 10 | Stefan Stuligrosz | Don't be afraid | 9:16 |
| 11 | Stefan Stuligrosz | Act of Consecration of the World to Jesus of the Divine Mercy | 3:31 |
| 12 | Stefan Stuligrosz | Santo subito | 7:20 |