Totus Tuus. Hybrid Multichannel SACD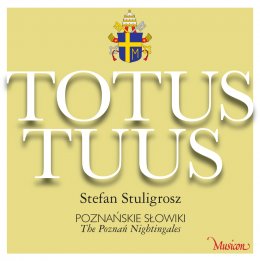 Please give us the catalogue numbers and quantity of our CDs you are interested in buying. We will send you information on the cost of the CDs and of the shipping and handling thereof.
Musicon
musicon@musicon.pl
OK
MSCD 046
Pieces of prof. Stefan Stuligrosz prepared in honor of Blessed Pope John Paul II.
Performers:
"The Poznań Nightingales" Boys' and Men's Choir of the Poznań Philharmonic
Stefan Stuligrosz – conductor
Maciej Bolewski – organ
Producers: Jacek Guzowski, Krzysztof Kuraszkiewicz
Graphic design: Anna Lenartowicz
english texts: Andrew Z. Szydło
Plays on All SACD and CD Players.
The recording, created in high-resolution (24/96) surround 5.0 technology, was created at the All Saints Church in Poznań in March 2011, courtesy of rector Janusz Grześkowiak, PhD.
Songs
| | | | |
| --- | --- | --- | --- |
| 1 | Henryk Mikołaj Górecki | Totus Tuus | 7:34 |
| 2 | Stefan Stuligrosz | Sequence to the Holy Spirit | 6:09 |
| 3 | Stefan Stuligrosz | Oh, Polish land | 1:50 |
| 4 | Stefan Stuligrosz | Surrexit Dominus vere. Cantate domino | 3:48 |
| 5 | Stefan Stuligrosz | Quia vidisti me, Thoma, credidisti | 2:58 |
| 6 | Stefan Stuligrosz | Veni Creator | 4:10 |
| 7 | Stefan Stuligrosz | Good Shepherd – in Gregorian style | 1:52 |
| 8 | Stefan Stuligrosz | Good Shepherd – in the style of a church song | 2:00 |
| 9 | Stefan Stuligrosz | Good Shepherd – for mixed choir | 3:50 |
| 10 | Stefan Stuligrosz | Don't be afraid | 9:16 |
| 11 | Stefan Stuligrosz | Act of Consecration of the World to Jesus of the Divine Mercy | 3:31 |
| 12 | Stefan Stuligrosz | Santo subito | 7:20 |